Home
›
Products
›
Pleawa-power-accountability-and-rights-printed-isbn-978-0-9953547-0-8-978-0-9953547-0-8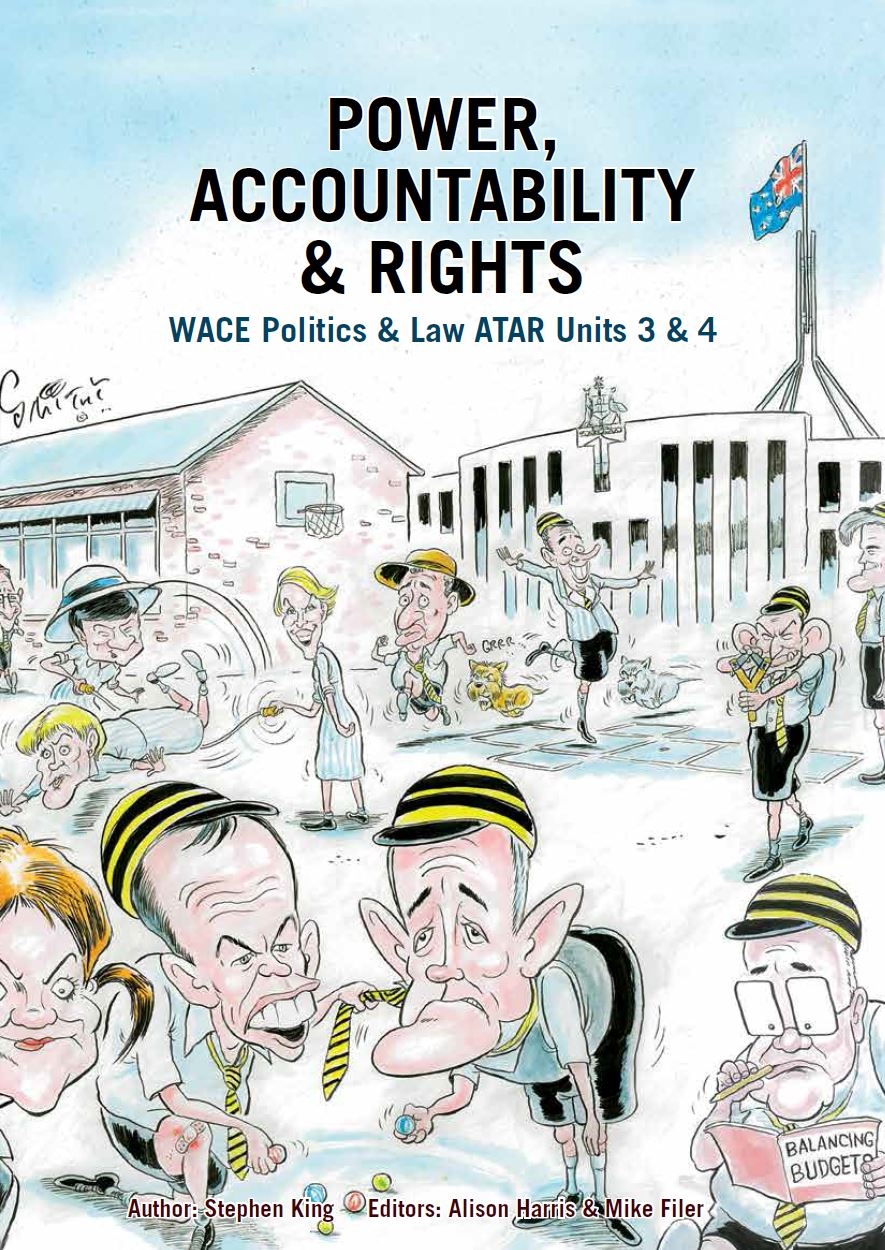 Power, Accountability & Rights PRINTED (ISBN: 978-0-9953547-0-8)
$75.00
AUD


Approx $50.25

USD

Product Code: 978-0-9953547-0-8
Description:
Brand new Textbook for the Year 12 Politics and Law ATAR course. Please see 'Publications' tab for further details on the text.
ORDER NOW WITH PLEAWA:
PICKUP AVAILABLE AT MULTIPLE VENUES IN THE PERTH METROPOLITAN AREA. Instructions will be attached to your invoice.

N.B:

PICK-UP IS NOT AVAILABLE DURING SCHOOL HOLIDAYS

. If you select "pick-up" your text will be available for pick-up after school holidays conclude - you will be emailed confirmation of its readiness the day before.
DELIVERY BY COURIER WITHIN THE METORPOLITAN AREA OR AUSTRALIA POST OUTSIDE THE METROPOLITAN AREA.
WITHIN WA: Shipping in Western Australia will cost $10 for 1 textbook ordered, $24 for 2-8 textbooks and $30 for orders of 9 textbooks or more. These costs will generate automatically.
WITHIN AUSTRALIA: Shipping of up to 4 books throughout other states/territories of Australia (via Australia Post) is $18. Between 5-8 textbooks will incur a $36 shipping cost. All orders for 9+ textbooks will incur a maximum $54 cost for shipping. Please note: The shipping cost for these transactions will finalise on the final confirmation screen.
OUTSIDE AUSTRALIA: Please enquire on shipping options before purchase. Please email the Secretary.
PLEASE NOTE: PLEAWA WILL BE CLOSED DURING ALL WESTERN AUSTRALIAN SCHOOL HOLIDAYS. ALL ORDERS PLACED DURING THIS TIME WILL BE PACKAGED/SENT AFTER THIS PERIOD. 2018-2019 School Holidays are 8 December- 28 January 2019, 13-28 April 2019; 6-21 July 2019 and 28 September-13 October 2019.
You might also like
$130.00 AUD
Approx $87.10 USD
Product Code: MEMINS